Twin Cities World Tourism Association founded on September 14, 2018
On the 14th of September 2018 at the biggest travel fair of the South-East-Asian Region, the PATA Travel Mart on the island of Langkawi/Malaysia, a new association of international twin cities was founded with the aim to support and foster exchange a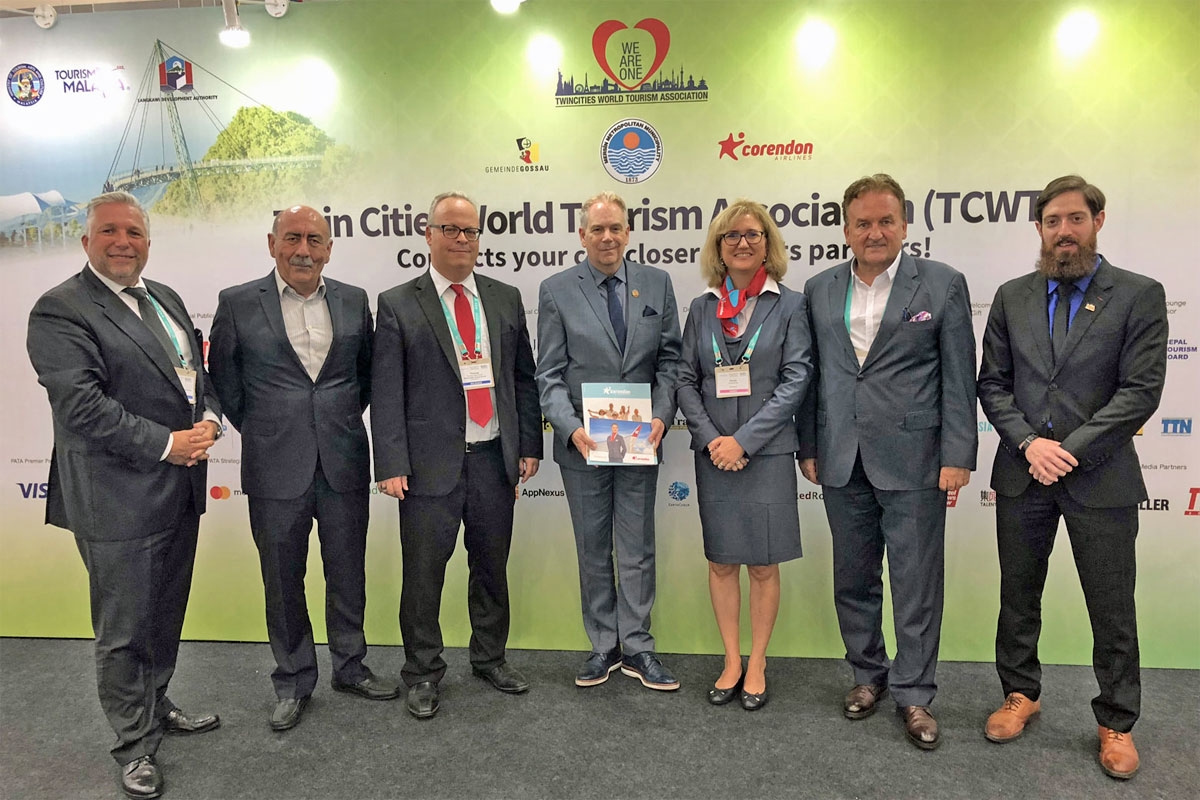 Thomas-Peter Binder was elected "Founding President" of the TCWTA. The Swiss citizen residing in the town of Gossau-Zürich offers long-term experience as President of the Association of Public Services of the Zürich Kanton and also of Switzerland and is also well acquainted with international twin city relations. Binder expounds the goals of the TCWTA with the words: "Partnerships of towns and cities offer many opportunities because both partners are able to profit from this relation and also are able to learn a lot from each other. This is why the TCWTA has set itself the target to promote twin city partnerships and to support existing and new ones with a multitude of programs and services."
The well-known tourism expert Hüseyin Baraner was appointed general secretary of the TCWTA. Prof. Dr. Wolfgang Georg Arlt, Director of the China Outbound Tourism Research Institute, will lead the Department Chinese Region, whereas the marketing expert Enrique Lepehne will offer his vast experience in the Latin American Region. Support for PR activities of active twin cities will be offered by the journalist Christopher Kubaseck as Chief Press Officer TCWTA. Kubaseck will also be responsible for the management of global communication for TCWTA.
At the forum on the stand of TCWTA on the PATA Travel Mart on Langkawi/Malaysia participants stressed the fact that collaboration between twin cities could be developed even further than the level reached so far. This is also the case concerning exchange and personal encounters of the citizens of both cities by way of travel and tourisms.
With these thoughts in mind Thomas-Peter Binder, the newly elected Founding President of the TCWTA, underlined that he does not only plan to promote the establishment of new twin city partnerships, but also will campaign for more exchange and an increase of the number of visitors on both sides of twin city partnerships.
Prof. Dr. Wolfgang Georg Arlt on the other hand emphasised that he feels honoured to be one of the founders of TCWTA and touched on the situation in China: "In China many cities have partnership relations with cities abroad and are very interested to use these partnerships in order to develop tourism activities on both sides. China is the biggest source for travel and tourism world wide. As a member of the "Expert Committee of the World Tourism Cities Federation" with its headquarters in Beijing/China I will strife towards creating a good start for the Department Chinese Region of the TCWTA within the framework of its global strategy."
Enrique Lepehne expressed his joy to be responsible for the Region Latin America on behalf of the TCWTA: "I am glad to be able to create a new channel for contacts between towns and cities in South America and their partners in Europe and Asia. In this context I think it is very important to create opportunities for citizens to meet with each other during their mutual visits and to exchange experiences. I am happy to offer my marketing experience also for tourism marketing projects entered into jointly by twin cities."
Günter Ihlau, the former long-term TUI manager and today Vice President UNWTO Affiliate Members, has taken up the responsibility as TCWTA Director International Relations. He stresses that existing partnership relations between twin cities should be filled with life: "The main goal to support tourism between the cities has to be professionalised by introducing and maintaining tourism standards. This can be achieved by exchanging expertise, know-how and later on by the implementation of adequate steps."
Hüseyin Baraner, the general secretary of TCWTA, puts the focus of his activities on the establishment and upgrading of tourism infrastructure aimed at enabling citizens and NGOs of twin cities to meet: "I think it is very important that travelling activities between twin cities are organised by local travel and incoming agencies in order to create business for local economies. There are many opportunities to offer group tours for senior community members, youths, disabled persons, and also for occupational groups and associations to further the exchange of ideas, experiences and concepts. As TCWTA we will be present at the PATA next year, but also at annual meetings of other tourism associations. On the 18th of January 2019 we expect to meet with a number of mayors of important cities at the "Volkshaus Zürich" in order to converse about our mutual topics."
To this Thomas-Peter Binder added: "Even now we witness a big interest in our planned meeting in Zürich, with numerous towns and cities from Europa and overseas telling us they plan to join. We will meet with all of them on the 18th of January 2019 in Zürich in order to talk about steps we will take in the future to increase the number of travel movements between twin cities."
The Forum for the foundation of the TCWTA on the island of Langkawi was sponsored by the Turkish-Netherlands Airlines Corendon and the Turkish City of Mersin. Burhanettin Kocamaz, the Lord Mayor of Mersin, was elected Honorary President of the TCWTA as one of the Initiators of the idea to found this association. In his statement for the foundation of the TCWTA he emphasised: "In our time no city in any part of the world is able to survive economically without tourism. This is why I am glad to be able to make a contribution to further tourism relations between twin cities."